About the Waterbury Arts Fest
The 2022 Waterbury Arts Fest will be held on Friday, July 8 and Saturday, July 9.
This signature summertime event, proudly hosted by Revitalizing Waterbury, annually draws thousands of art enthusiasts, over 100 artist exhibitors, fantastic gourmet fare and live music from some of the area's most beloved entertainers.
Join us in our new location at 5 Pilgrim Park, on the lawn behind the Train Station!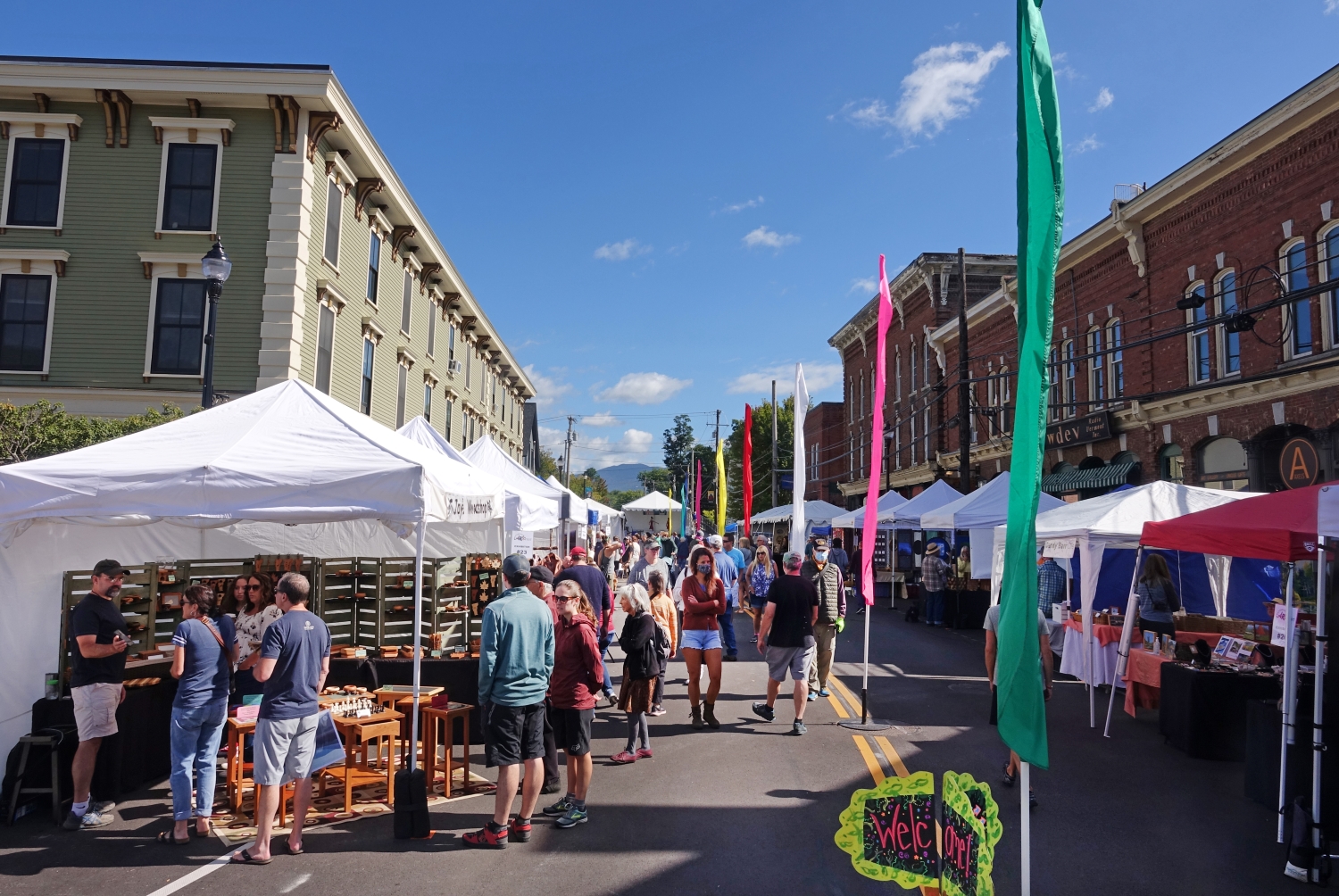 Revitalizing Waterbury (RW), a non-profit organization dedicated to creating and maintaining a vibrant community, hosts an annual two-day Waterbury Arts Fest. The Saturday Arts Market is an outdoor event with nearly 100 art exhibitors, live entertainment and a variety of eatery options. The Friday Night Block Party is a large dance party held the evening before with live music, beer garden, food trucks and dancing. The 2022 Waterbury Arts Fest will be held on Friday evening, July 9, 2022 and Saturday, July 10, 2022. The entire event takes place in downtown Waterbury.
The Waterbury Arts Fest serves as RW's primary fundraiser of the year, raising funds that support economic development activities, regional marketing and promotion, community programming and outreach and direct support of local businesses. RW is a Vermont Designated Downtown and provides municipal support for community wide projects.
The Friday Night Block Party is RW's way of saying thank you to the community for all of their support. It is a free event (donations accepted) held in the center of historic downtown. A main stage is set up, a beer garden is hosted by The Reservoir and food trucks offer fabulous things to eat. This year we are excited to be bringing back Vermont's party band, The Grift, who will have us dancing under the stars all night long. Approximately 2,500 people attend the Friday Night Block Party.
On Saturday nearly 100 artists and craftsmen line the closed streets. Artists are chosen for quality and range of art mediums and includes fine art painting, pottery, fiber art, weaving, glasswork, baskets, jewelry, woodwork and sculpture. Many artists conduct demonstrations throughout the day. Interspersed with the artists are a variety of fun food vendors and nonprofit vendors. The main stage has performances throughout the day including local favorite, the dancers from Green Mountain Performing Arts. A children's tent, sponsored by Makersphere provides special arts activities for kids. Approximately 2,500 people attend Saturday's events, which are free for all ages.
This is a community-centric event that celebrates the arts, music and Waterbury. Revitalizing Waterbury's mission is to preserve, promote and enhance the economic, historic and social vitality of Waterbury, Vermont.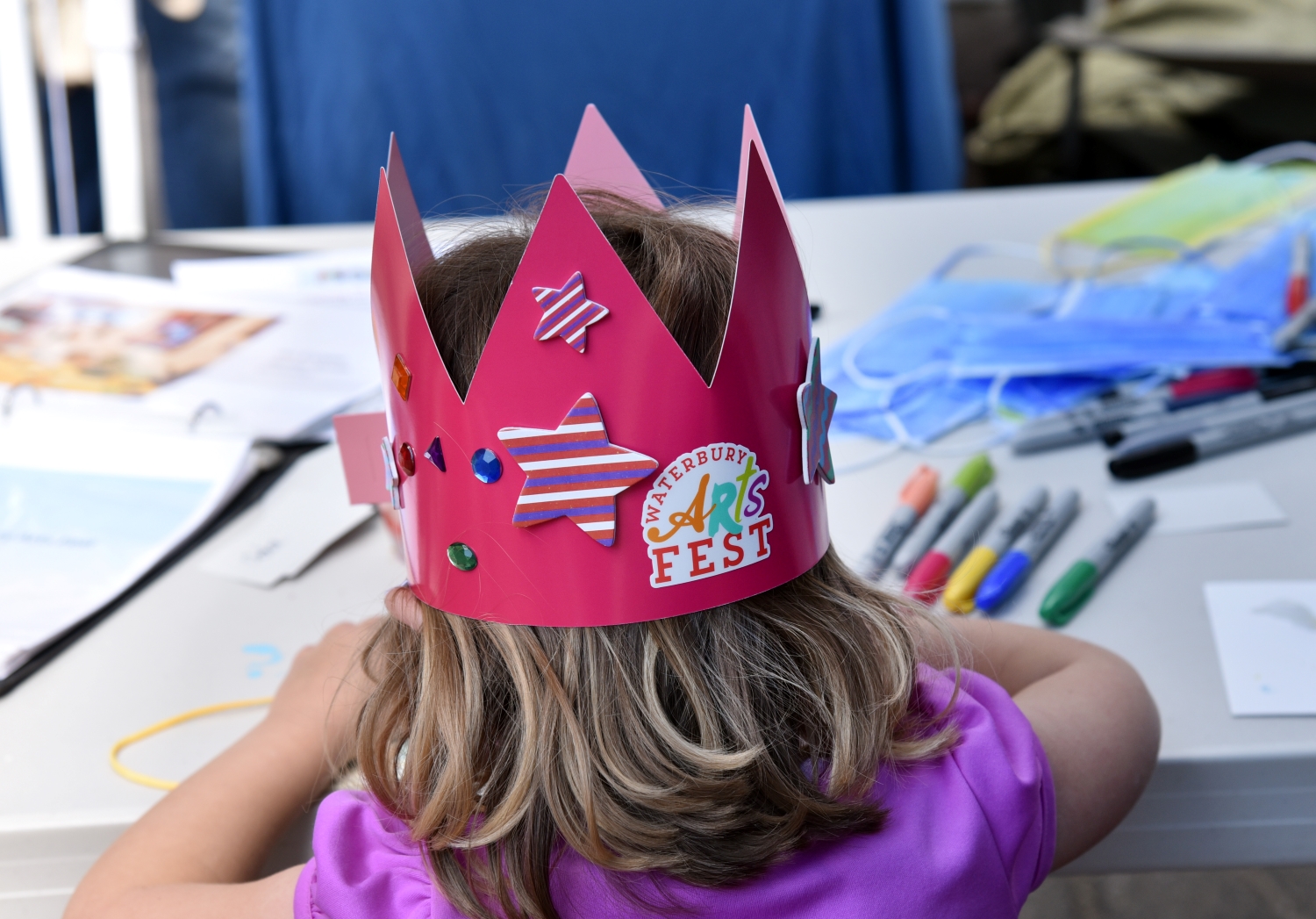 "Arts Fest is a destination event for Waterbury!"
— Arts Fest Attendee
"Great time as always!"
— Arts Fest Attendee
"Thanks for another wonderful event!"
— Arts Fest Attendee
"Wonderful event in Waterbury. Very well organized and advertised."
— Arts Fest Attendee
"I had the best time today! Wonderful customers and people. "
— Arts Fest Vendor
"Saturday was awesome! Loved all the vendors! "
— Arts Fest Attendee
"The Friday night vibe is fun!"
— Arts Fest Attendee
"RW creates festivals full of great music, food, and fun! Customers are all happy to be there! "
— Arts Fest Vendor
"It was so great to see my community out and about and having a great time."
— Arts Fest Attendee
"A great night! Excellent job by all involved! It's a must attend event!"
— Arts Fest Attendee
"I thought this was a great event in every way. Can't wait for next year!!!"
— Arts Fest Attendee